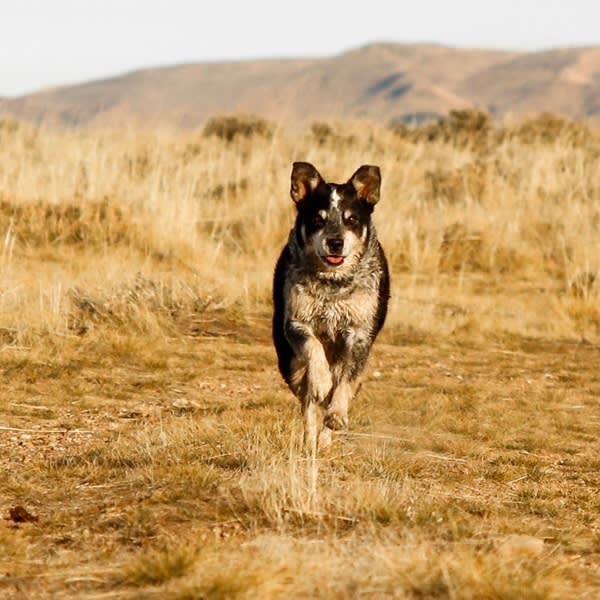 •
University of Florida
Canine Diabetes
•
University of Florida
Diabetes mellitus is an important health problem in both dogs and people. Type 1 diabetes (T1D) in people is caused by an attack of the body's own immune system on cells in the pancreas. Diabetes in dogs is thought to be similar in some ways to T1D in people, but there is still much more to learn about the causes of diabetes in dogs as well as better ways to prevent and treat the disease. The purpose of this study is to learn more about metabolism and immune function in diabetic dogs.
Background
Diabetes mellitus is the most common disorder of the endocrine pancreas in dogs and cats. The incidence in dogs is between 0.3% and 1%, and the incidence in cats is between 0.5% and 1.2%, depending on the study population, and is influenced by geographical location and type of veterinary practice (referral or primary accession).
Diabetes mellitus is a disease of middle aged to older companion animals, with peak prevalence of 7-12 years of age in dogs, and 10 – 13 years in cats. Intact female dogs, and male cats, are predisposed. Various breeds of cat and dog are overrepresented, and predisposed breeds vary with geographic area. For example, in the USA, dog breeds at increased risk include miniature Schnauzer, Samoyed, and miniature poodle, whereas in the UK, in addition to Miniature Schnauzer and Samoyed, breeds more commonly seen include Tibetan, Cairn, Border and Yorkshire Terriers and Labrador retrievers. In cats, Burmese are overrepresented in Australia, New Zealand and UK, and in USA, Maine coon, domestic longhair, Russian Blue and Siamese. Norwegian forest cats are at increased risk in Scandinavia.
Causes
In people, the most common forms of diabetes are type 1 (resulting from immune mediated β-cell destruction causing absolute insulin deficiency) and type 2 (characterized by insulin resistance with concomitant β–cell dysfunction). The majority of neutered diabetic dogs have an absolute insulin deficiency that is in some ways similar to type 1 diabetes in people, but this form appears to be very rare in cats. The etiology of diabetes in dogs is multifactorial, and likely involves genetic factors, poorly understood environmental factors, and/or diseases of the exocrine pancreas (eg. pancreatitis), which trigger β-cell injury and inflammation. As in humans, there is a seasonal influence with the incidence peaking in winter. Other factors such as chronic insulin resistance secondary to glucocorticoid administration or obesity, and diseases which antagonize insulin's actions would be expected to hasten onset of clinical signs when superimposed on a reduced capacity to secrete insulin as a result of immune-mediated β-cell destruction.
Diabetes in cats is similar to Type 2 diabetes in people. Insulin resistance is multifactorial and associated with genetic factors, obesity, physical inactivity, male gender, and glucocorticoid steroids.
Diagnosis
Diagnosis of diabetes mellitus is based on demonstration of persistently increased blood glucose concentration, and is typically associated with classical clinical signs of excessive drinking and urination. The presence of elevated plasma fructosamine (approximately > 400 umol/L; reference range varies by laboratory) or glycated hemoglobin (A1c) (reference range depends on assay used), in symptomatic pets with hyperglycemia and glucosuria help confirm the diagnosis of diabetes mellitus.
Treatment
Avoiding pet obesity (especially in cats) and avoiding or limiting exposure to medications that may predispose to diabetes are important preventative factors. Nearly all veterinary patients with diabetes mellitus are managed with a combination of insulin therapy, diet, and weight management. In dogs and cats, insulin therapy is generally administered twice daily for the life of the pet.
A diagnosis of Canine Diabetes within the last 4 weeks
Adult age (Older than 1 year)
Body weight greater than 6.5 lbs (3 kg)
Non-spayed females
Current diagnosis of destrus diabetes or hyperadrenocorticism(Cushing's Disease)
Weight under 6.5 pounds
We will perform baseline bloodwork (CBC, biochemistry) and collect a urine sample, you will receive the results of the basic bloodwork and urine testing at no charge to you. If your dog has a concurrent clinical appointment at the UF Small Animal Hospital, any costs related to that appointment will be the responsibility of the client.
1. Department of Small Animal Clinical Sciences, University of Florida
2015 SW 16th Ave, Gainesville, FL 32608
352-392-2235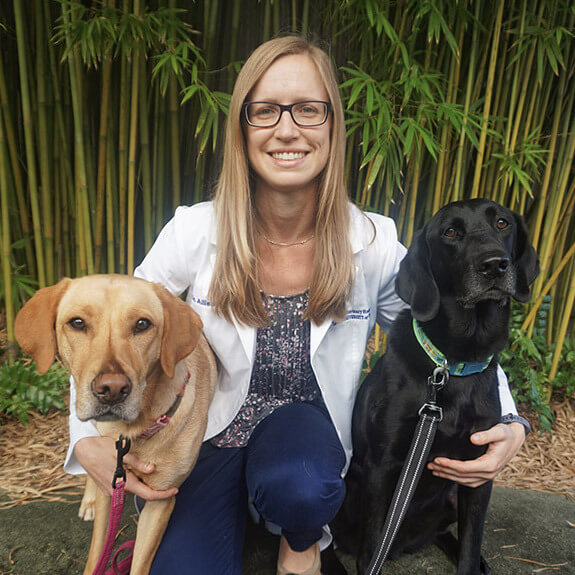 Allison O'Kell
DVM, MS, DACVIM
Dr. O'Kell graduated from the Western College of Veterinary Medicine in Saskatoon, Saskatchewan, Canada in 2008. Between 2009 and 2012, she complete a small animal rotating internship followed by a residency in Small Animal Internal Medicine in Blacksburg, Virginia at Virginia Tech. She also completed a Master's degree in Veterinary and Biomedical Sciences during the residency period. In 2012, Dr. O'Kell became board certified as a diplomate in Small Animal Internal Medicine through the American College of Veterinary Internal Medicine. Dr. O'Kell worked as a clinician in both private specialty practice and academic medicine following her residency. She is currently a Clinical Assistant Professor at the University of Florida in Gainesville. Her research is focused on canine diabetes pathogenesis, with the goal of finding better ways to treat and prevent the disease. She also collaborates with the University of Florida Diabetes Institute to study parallels between diabetes in dogs and people.
Dr. O'Kell has been the primary author on numerous published scientific papers in peer-reviewed journals. She is also a reviewer for several journals and is Associate Editor for the journal Topics in Companion Animal Medicine.